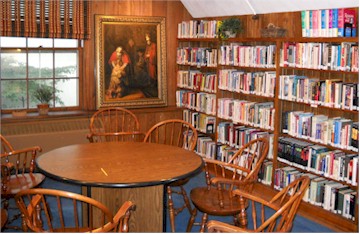 Have you ever visited St. Mark's library? It is located above the chapel, up the stairs from the office area, and has recently been refurbished and expanded—including the addition of 500 new titles! The library contains books on many topics, including Bible reference, Christian living, marriage, parenting, evangelism, devotionals, and personal growth.
You may check out books for four weeks. Just write your name, telephone number, and the date on the book card (located inside the front cover); then place the book card in the check-out box.
You are invited to browse at your leisure, as well as to make use of the space for quiet reading or study. For questions or suggestions about the library, please contact the church office.