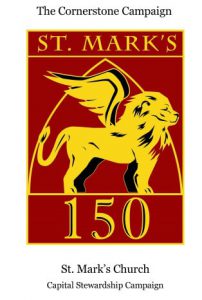 St. Mark's seeks to be a cornerstone in the lives of the parishioners and the community. Being able to offer space for adult education and for smaller groups is instrumental to our desires and enables us to fulfill our mission. A copy of the Cornerstone Capital Campaign viewbook is available for download.
To date, our pledges total $965,000. Thus far we have received $489,000. Prayerfully consider how you may be a part of fulfilling our mission by making three-year commitment.
Our Cornerstone Prayer
"Almighty Father and everliving God, we give thanks for the 150 years of worship, community, teaching, and mission that you have provided through St. Mark's parish. Source of all wisdom and understanding, be present with us in our Cornerstone Campaign for the renewal and purpose of your Church. Teach us in all things to seek first your honor and glory. Send your Holy Spirit to guide us to discern what is right, and grant us both the courage to pursue and the grace to accomplish your will, through Jesus Christ our Lord, Amen."